Announcements
Eliane Choquette wins the SMG Copenhagen Prize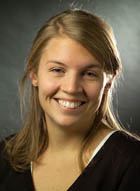 PhD student Eliane Choquette from Department of Business Administration has won the SMG Copenhagen Prize at the European International Business Academy (EIBA) annual meeting.
On 9 December 2012 Eliane Choquette received the SMG Copenhagen Prize 2012 for the best paper written by a young scholar in International Business and presented at the European International Business Academy annual conference in Brighton, UK.


The price was awarded on the basis of the following two papers:
'Export spillovers: Opening the Black Box' (co-authored with Philipp Meinen, Aarhus University)
'What do Inward-Outward Linkages in the Internationalization Process of Firms mean for Export Survival?'


The department congratulates Eliane on this honour.