People
Professor of food and consumer behaviour with Greek roots
It has always been about food. Athanasios Krystallis has travelled all over the world and become an expert within his field. He has always tried to hone his competencies and acquire more knowledge. This has now culminated in a professorship in foods and consumer behaviour at Aarhus University.
Having the whole world as his workplace and given his considerable experience in foods and consumer behaviour, he has been involved in many exciting projects and challenges. Originally from Greece, Athanasios Krystallis, an Aarhus University staff member, has now been made a professor of foods and consumer behaviour.
In 1980s Greece, farming was the hot topic to study if you wanted to make your way in the world. Growing plants and knowing how to promote 'green' production were the subjects to study if you wanted a good career – which Athanasios Krystallis did.
He was a pioneer within the area, and the idea arose of continuing his studies within foods and combining it with marketing. Combining two different subjects and thereby focusing your knowledge on two fields was a novel approach, but it opened up many new possibilities professionally. And it made him want to explore new opportunities outside Greece.
One of the first ERASMUS students
It coincided with the start of the ERASMUS programmes, and Athanasios Krystallis was one of the first to participate in the programme and study abroad. He travelled to several different countries before he arrived in Denmark. Among other things he was in France and the UK, and did everything he could to build up a good CV. For him, as for other Greeks, it was a simple necessity – not just because it was interesting, but for the sake of a job. It was in the UK that he earned his PhD in consumer behaviour, funded by a grant from the Greek government.
Contact with Aarhus University
Armed with his PhD, he returned to Greece, where he got a job at a research institute working with foods and consumer behaviour. Among other things, he participated in a project in collaboration with several European countries where Aarhus University, represented by the MAPP centre, was one of the partners. It was here that he started working with AU:

? When the financial crisis was flaring up in 2006-2007, my research area was unfortunately one of the first victims of the changes. The Greek government stopped all funding for research, staff were fired and conditions became very difficult at the universities, recalls Athanasios (Thanasis) Krystallis.
Thanasis therefore contacted everyone in his network with a view to returning overseas. His family, which now counted himself and his wife and two young children, were also affected by the crisis. His wife had just given birth to their second son and was unable to find a job. However, in Denmark the possibility arose of them both being able to find work at Aarhus University. Today, Thanasis's wife is a PhD student at the university.
It has been a turbulent time until now, and it has been hard to settle in a new country with two toddlers and no family nearby. At the same time, it has been a fresh start with new experiences for them all. As Thanasis says:
- It was hard and it still is occasionally, but there are also many good things about having come to Denmark – especially all our Danish friends. Variety is the spice of life – it's fascinating seeing different places and getting to know people in other parts of the world.
Difference between Denmark and Greece
As for the question as to what is the biggest difference between Denmark and Greece, he mentions the culture, the traditions and the different way in which Danes and Greeks conduct their lives – and, of course, the weather! In fact, the two are closely related: In Denmark we live and spend most of our time indoors. Our homes are therefore very important for us. We devote a lot of energy and spend a lot of money on building and furnishing nice houses because most of the time the weather keeps us inside.
However, in Greece the opposite is true – you spend most of your time outdoors. It is important to have a sense of freedom. Moreover, Greek traditions and history, including the country's religion, have a strong bearing on daily life for Greeks. In Greece you celebrate numerous religious feast days, and this plays an important role in people's lives. Not because Greeks are more religious than most people in Denmark, but because you are more aware of the traditions and the sense of history on which Greek society is founded.
In addition, there are clear differences in temperament – Greeks do not hold back from complimenting one another or showing consideration. It is not taken to mean that you want to exploit each other or that you have any ulterior motives, which Thanasis feels is the case here in Denmark. He finds it hard to comprehend the Danish way of thinking in this respect, and thinks that everyone should do more for one another, give up your seat on the bus, open doors, give compliments and be polite. He was always brought up to do so, and tries to instil it in his children.
Research projects
In Denmark, he is researching what he calls: "the space between psychology and statistics". Choosing foods is often determined by habit, and he is working to find out how it is possible to influence choice in a more conscious direction, for example towards healthier, low fat or organic foods. And at looking at what we would be happy to relinquish to be able to choose healthy food. In Denmark, it is often a question of flavour and price which influences our decisions, and therefore Denmark is not always the best place to promote healthy food.
Another topic is food waste: How is it possible to avoid food waste or food which is bad for the environment? Here, he works with Tino Bech-Larsen, who has also just been made a professor at Aarhus University. Tino primarily works with communication on healthy food, while Thanasis concentrates on the strategic aspects and collaborating with the business sector.
The future
Will he and his family stay in Denmark? He doesn't know the answer to this question, but they built a new house last year, and it sounds as though he has never met as many pleasant people as he has here:
? I have never met as many nice people before as I have in Denmark – people whom I can trust so that I feel safe. Here I know that I can return home each day and I can look after my family without being afraid of anything – Denmark is a safe country, and that makes it all worthwhile.
Read more about Athanasios Krystallis (link to website)
Further information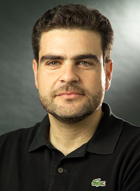 Professor Athanasios Krystallis
Aarhus University, School of Business and Social Sciences
Department of Business Administration
Email: atkr@asb.dk
Telephone: +45 8716 4953