People
Povl Erik Rostgaard Andersen is retiring
Associate Professor Povl Erik Rostgaard Andersen from the Department of Business Administration is saying goodbye after 29 years at Aarhus School of Business and later Aarhus University.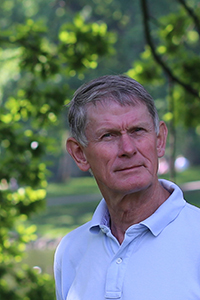 Povl Erik Rostgaard Andersen from the Department of Business Administration will retire on 27 June 2014. It is a mild retirement at first, as Povl Erik Rostgaard Andersen will continue to work with the development of two companies – one in the area of telemarketing and one in education/training.
The main research focus of Povl Erik Rostgaard Andersen's career has been IT strategy and the process of combining business visions with information technology. In this regard he has carried out several studies about how an organisation should align their business aspects in connection with IT implementations of healthcare information systems.
According to Povl Erik Rostgaard Andersen, it is decisive that a project implementation creates value for its users. If the findings do not become visible, it is important to learn from the project and find out why the project did not end up as planned.
Collaboration with students
It is time for Povl Erik Rostgaard Andersen to look back on a long and successful teaching career. He says it has been most interesting to follow the ongoing development over the years and he has enjoyed the dialogue with his students.
"Their comments and commitment have been both educational and a motivating factor for me," says Povl Erik Rostgaard Andersen and continues:
"My teaching and research have been linked together in many ways, and there has been great dynamic between the two areas."
For many years Povl Erik Rostgaard Andersen has been coordinator of the MSc programme in Information Management and director of the programme in Master in IT. He enjoyed both responsibilities.
Teamwork creates synergies within research projects
It is not an easy task for Povl Erik Rostgaard Andersen to pick out the most interesting periods of his working life. He has enjoyed the whole process, but one specific research project on the Faroe Islands made a huge impression. It was about evaluation of the implementation of an integrated hospital system.
"The scale of the project on the Faroe Islands made it easier to understand the complexity of the project since the islands only has a total of three hospitals. It was also easier to contact all involved parties and make things happen there, compared to a similar project in Denmark," explains Povl Erik Rostgaard Andersen and continues:
"It is more difficult to carry out impact measurement in Denmark because the Danish projects simply are bigger."
In particular, Povl Erik Rostgaard Andersen emphasises his collaboration with his two colleagues Bjarne Rerup Schlichter and Per Svejvig.
"Our teamwork has been a great motivation. Our collaboration has also been very important in some situations, where political interests created specific problems. Here we were able to discuss what we could do to solve the problem and to prepare a strategy. That has been a great help," says Povl Erik Rostgaard Andersen and continues:
"During the publishing process, it was also a great advantage to work as a team," he explains.
A great man is retiring
"The gap that Povl Erik Rostgaard Andersen is leaving behind will not be an easy one to fill," says Søren Erik Nielsen, and adds:
"It was not without reason that Povl Erik Rostgaard Andersen was the self-proclaimed Ministry for the Environment within our research group, which made him responsible for ensuring the social environment within the group. For his work in this ministerial area he has earned a grade that goes well beyond 12 on the new grading scale."
A new and active life is waiting
Povl Erik Rostgaard Andersen plans to join two businesses, one dealing with telemarketing and another dealing with education and training. Here he will be working as chairman of the board in one company and director of the other. The two assignments will take up a certain amount of his time, but he also wants to travel more. Furthermore he loves to go biking and hopes to find time to take up kayaking.
Retirement reception
The Department of Business Administration is hosting a retirement reception on Friday 27 June 2014 at 14:00 – 16:00. The reception takes place at Bartholins Allé 10, 'Riddersalen', building 1323.
Further information
Povl Erik Rostgaard Andersen
Department of Business Administration
ros@asb.dk
+ 45 8716 4941