Research news
Successful Half Double Conference: A Proven Concept
High level research findings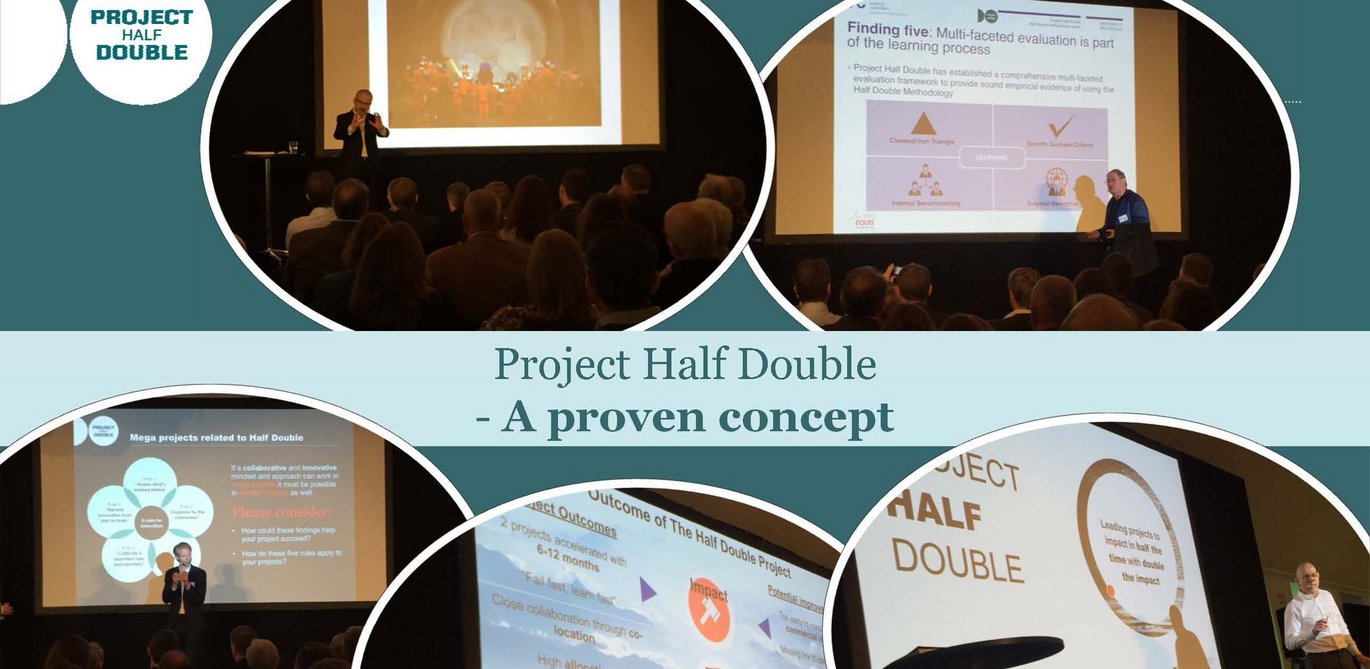 For the last three years, a research team at Department of Management has been partaking in an engaged scholarship project called Project Half Double. Project Half Double is an extensive project management movement towards a new and better project management methodology that can help project managers leverage their projects by delivering more impact and reduce waste of time.
The initiative took flight in 2015 when project practitioners met to kick off the half double journey and discuss opportunities for improving prevalent practices in their shared field of expertise.
Since then, a research team from Aarhus University has worked dedicatedly together with other researchers from other universities, consultants and project practitioners in several organisations to develop and test the methodology.
With financial support and a grant of DKK 13.8 million from the Danish Industry Foundation, an engaged philanthropic foundation, the project was carried through.
In April 2018, the high level research findings were presented at a conference hosted by Implement Consulting Group in Copenhagen.
More than 250 people signed up for the event – which was also live streamed via youtube.
Per Svejvig, head of the research team, participated from Department of Management and presented the results of an extensive research process.
Throughout the last three years, data has been gathered from 10 pilot projects and around 30 reference projects to form the basis of three research reports – all available on the Project Half Double webpage.
Taking point of departure in the latest report 2 on Project Half Double as well as recent research not yet published, five main findings are:
1. Applying the Half Double Methodology works
2. Sweet spots are where the project type and size match the methodology
3. Powerful practices make a difference
4. Simplicity is a keyword for the Half Double Methodology
5. Multi-faceted evaluation is part of the learning process
To end the conference, Professor Andrew Davies from University College of London gave an inspiring key note speech on five simple rules for mega projects.


More info:
About Project Half Double
The objective of Project Half Double is to increase the competitive performance of Danish industry by increasing accuracy, pace and impact of projects. To achieve this, Project Half Double has a clear mission to succeed in developing a project methodology that can increase the success rate of projects while increasing the speed at which we generate new ideas and develop new products and services. The overall goal is to deliver "projects in half the time with double the impact".
Project Half Double is supported and funded by the Danish Industry Foundation. Implement Consulting Group leads the project and establishes and manages the collaboration with the pilot project companies in terms of methodology. Aarhus University and the Technical University of Denmark evaluate and document the impact of the pilot projects and the experiences gained from working with the Half Double methodology.
Contact info: Anna Gerstrøm Rode (agerstroem@mgmt.au.dk) and Per Svejvig (psve@mgmt.au.dk)