MARA RESEARCH TALKS
We now launches a number of virtual research sessions, where researchers present their projects and findings. The Talks are open to everybody and can be streamed on facebook or followed on Zoom.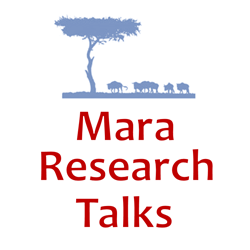 Since 2014 the research network of the Maasai Mara Science and Development Initiative has started up more than 20 research projects and 13 master thesis projects. The projects go across disciplines and countries, but all with the same focus: to contribute to conserving the Maasai Mara ecosystem, its rich wildlife and culture through interdisciplinary research and development initiatives.
It is our ambition that the data and knowledge developed in our research should be shared and discussed with local communities and authorities and this way contribute to the future of the Greater Mara ecosystem. We usually arrange seminars and workshops at the Karen Blixen Camp.
This last year has been hard in many ways, but it has made us more creative in finding ways to come together online. Therefore, we would like to invite you to a number of virtual research sessions, where researchers from our network will present their findings and project and answer questions from the audience. We call these sessions for the MARA RESEARCH TALKS.
MARA RESEARCH TALKS - PROGRAM
7th JUNE 2021, 10 AM EAT; 9 AM CEST
Where do people want elephants and rhinos to live in the Maasai Mara?
Presenter: Postdoc Susanne Marieke Vogel, Department of Biology, Aarhus University
Moderator: Dr. Alice Odingo, Department of Geography and Environmental Studies, University of Nairobi
At the beginning of 2020 we asked 557 people living in the Maasai Mara, mostly Maasai, about their opinion on elephants and rhinos. We interviewed people in the different conservancies, but also in trading centres and potential conservancies. In this talk Susanne will discuss our results, and explain how positive people are for living with elephants and rhinos in the different regions of the Maasai Mara. She will also discuss how different factors, like gender, education and owning livestock or a business seem to influence people's opinions. Finally, she will explain more about what the research team now uses the data for, and what the results teach us about the future for elephants and rhino in the Maasai Mara.
You can sign up for Zoom participation here:
https://analytics-eu.clickdimensions.com/erm-audk-aeaop/pages/elhu793eeu6zaanoiymnw.html?PageId=ff6e581277bfeb11bacc000d3a2ca637
14 JUNE 2021, 10 AM EAT; 9 AM CEST
Conservation Management in Mara North Conservancy
Presenters: Helena Johnsen and Line Ochelka, Cand.scient., Department of Biology, Aarhus University
Moderator: Landowner David Noosaron, member of the board of Maasai Mara Science and Development Initiative.
Cattle and shoats (sheep and goats) are the primary livestock species in Mara North Conservancy of southwest Kenya. How cattle and shoats influence wild herbivores can be vastly different depending on the species, as well as the environmental factors. How does the ever-increasing number of shoats affect the local wildlife? Do interactions between cattle and wildlife change during drought and heavy rainfall? We have spent the past ten months investigating these questions and are now ready to present the exciting results.
You can sign up for zoom participation here:

analytics-eu.clickdimensions.com/erm-audk-aeaop/pages/phj7z794eeu6zaanoiymnw.html
28th JUNE, 10 AM EAT; 9 AM CEST
How can we use satellites in space to help manage livestock and wildlife in the Mara?
Presenter: Assistant Professor, Dr. Robert Buitenwerf, Department of Biology, Aarhus University
Moderator. Dr. Irene Amoke, Executive Director, Kenya Wildlife Trust
Dr. Irene Amoke (Executive Director, Kenya Wildlife Trust) will moderate this Mara Research Talk by Dr. Rob Buitenwerf (Aarhus University, Denmark). They will discuss how satellites in space can help us understand how vegetation changes for example because of drought and grazing by livestock and wildlife.
Mara Research Talks in August (dates to be announced later)
The Contested Lands of Laikipia - Histories of Claims and Conflict in a Kenyan Landscape
Presenter: Postdoc Marie Ladekjær Gravesen, Natural Resources and Development Unit DIIS - Danish Institute for International Studies
Some 250 km northeast of the Greater Mara, lies the Laikipia Plateau. Here, pastoralists meet with conservationists, ranchers of European descent, smallholders, as well as land investors with political influence. They all make claim to the land, although they use different strategies. Some present private property rights, some speak of a history that documents their presence, and some accuse others of immoral behavior. All the while fences are electrified and violence erupts with increasing frequency. Gravesen undertook ethnographic fieldwork in Laikipia between 2014 and 2016, just before yet another wave of violence hit the region. This talk will take a point of departure in her recently published book on Laikipia, while drawing lines to the Mara.
HOW TO PARTICIPATE IN THE ZOOM OR FACEBOOK LIVESTREAM TALK
You can participate in the Talks through Zoom, but we will also livestream the Zoom Talk on our MMSDI Facebook page. We hope this will allow us to involve anyone interested and reach many people that usually might not be able to attend.
For those who have a Zoom account, you can sign up to the event via the links above.
A few days before the Talk, you will receive a link and log in details to attend the Zoom Mara Research Talk.
If you want to participate via Facebook livestream, you just join the facebook event at the given time.
In the Talk, the presenters will be visible with camera and sound, but participants will not and will thus not appear on the Facebook livestream.
The Facebook livestream will be saved, allowing people to watch it either during, or after the event has taken place.
During the presentations, it is possible to ask questions. If you participate in the Zoom Talk , you can post your question in the Q&A option. If you participate in the Facebook livestream of the Mara Research Talk, you can post your questions in the livestream chat. At the end of the presentation, we will select a few questions to ask the presenter.
Contact
Research advisor at Aarhus University Pernille Kallehave, peka@mgmt.au.dk