The MNC Dog Project/VetAid team continues to vaccinate domestic dogs in spite of shutdown
The team has also assisted the Ministry of Health with COVID19 sanitizers, masks and information activities.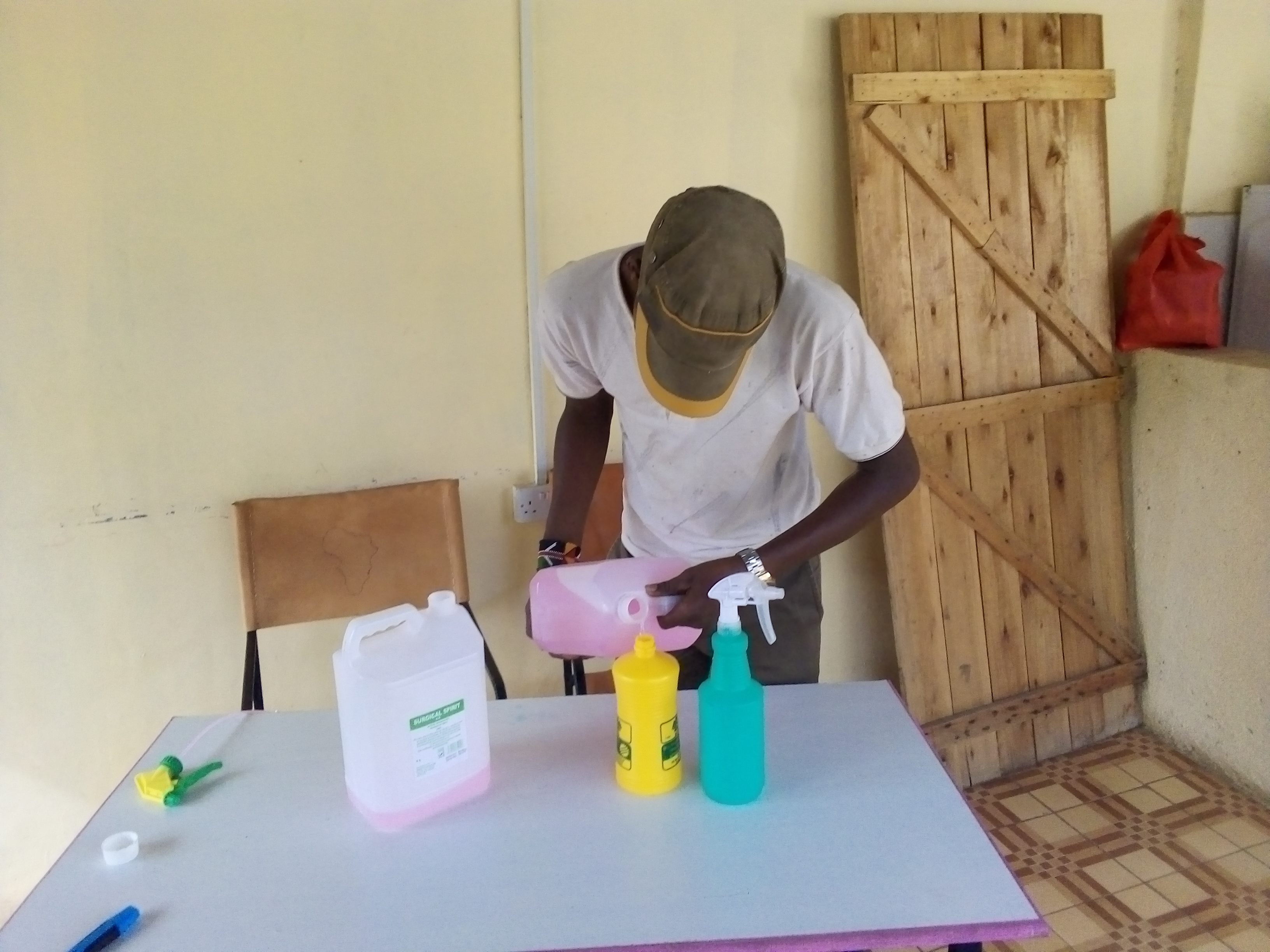 At the end of April 2020, an international group of 10 veterinary students was to participate in the third MNC Dog Project workshop in Mararienta.
Domestic working dogs of Mara North Conservancy were to be spayed/castrated and vaccinated according to the ongoing goals of the project. Unfortunately, the workshop was cancelled due to the Covid-19 situation. The disappointed students had hoped to be able to join the November workshop, but unfortunately circumstances have not improved, and we have once again – reluctantly - decided to cancel the workshop.
However, the shutdown has not put a complete stop to the MNC Dog Project, nor have the heavy rains that dominated this part of Kenya throughout the spring. Our local partner, Dr. Gabriel Turasha, head of VetAid Kenya, managed to get official status as an 'Essential Service Provider'. This designation enabled vaccinations to continue - on condition that the vaccination team had a Government Veterinarian or public health officer accompany him or other VetAid veterinarian and a public sound system to convey over loudspeakers the Covid-19 Ministry of Health messages in the villages. The team was required to spend 10-15 minutes at each household before or after the vaccinations to create awareness on COVID-19.
The MNC Dog Project/VetAid vaccination team provided further assistance by carrying, using and distributing masks and demonstrating how to use sanitizers and to clean hands with soap and water. Local veterinary students contributed by producing home-made sanitizers from surgical antiseptic solutions and glycerine.
In spite of these extra assignments, the local MNCDog Project team managed to vaccinate almost half the MNC dog population by mid June. The entire population is estimated at 3500 dogs, and by June, 1720 dogs had been vaccinated. With the funding from Animal Protection, Denmark (Dyrenes Beskyttelse) and Ragnhild Bruun's Fund, vaccinations will continue throughout the year, aiming at having the entire population securely protected against rabies, distemper and parvovirus by January 2021.
It important to add that during the same period (January – June 2020) - at the request of the MNC community and financed from other sources, VetAid managed to vaccinate 6,000 cattle against CBPP, Anthrax/Blackquarter and Lumpy skin disease. Also 11,000 sheep and goats were vaccinated against CCPP, Blue tongue, Sheep- and goats-pox and PPR. The community depends heavily on sheep and goats especially now that there is no income from eco-tourism, so this effort is highly appreciated.
If the COVID-19 situation allows, MNCDog Project is planning to go to MNC in late February to supervise surgeries performed by local veterinarians. We still cannot risk bringing an international team of students along, but we want to be able to continue the population control effort of the project. So instead of organizing a workshop during winter, we hope to be able to act as consultants and encourage the local veterinarians to continue the important surgical work. Furthermore, by February the schools will (hopefully) have reopened, and MNCDog Project will therefore visit the local schools and present the work we are doing.